Every three years (on a triennial basis) all Faith City School students are given the opportunity to participate in a school-wide musical production.  It's a fun-filled event involving everyone at school including many parents and extended family members.
Students from ALL year levels are involved in the school musical—from New Entrants through to Year 8 students.
Opportunities are available for students to develop their talents in drama, music and dance while covering many of the curriculum objectives.  Selected students (usually from the senior classes) have opportunities to create props, paint stage back-drops, co-ordinate stage set requirements and assist with audio and lighting during the performances.
Some local schools and resthomes are invited are to attend and parents, friends and family have the opportunity to attend a "Special Parents & Family" performance, which is something that the students especially enjoy.
The most recent school musical was held in September 2017 .
"2nd Chances" – 2017 Musical
2nd Chances was a full school musical that was performed in 2017.  In this modernised adaption Jonah's character (which was based on the true biblical story of Jonah) was told to go and open a Church in Whanganui and he really didn't want to….. this musical followed the story of what happened next and the consequences and mishaps that occurred from not following God's instructions.
This was a widely enjoyed musical experience for both our students and audience members.  It involved singing, dance and drama as well as a wide range of costumes.
A small selection of photographic highlights from the 2017 musical are pictured below.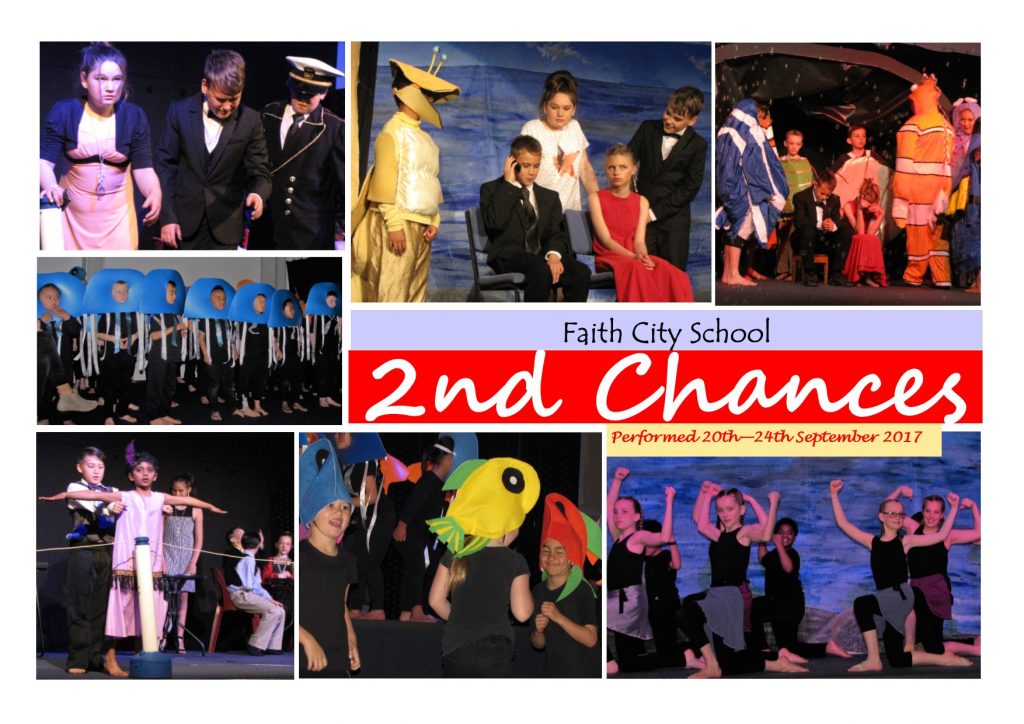 "Who Stole Christmas"
  – 2014 Musical
Who Stole Christmas was a seasonal musical and featured a few surprise well-known characters sprinkled in along the way.  The story included a timely reminder about the true meaning of Christmas and was staged in a stunning hand-painted snowy back drop.  The performance delighted audiences both young and old.
A small selection of photographic highlights from the 2014 musical are pictured below.